Overview
SAGrader is a learning tool that engages your students with interactive writing activities guided by immediate, personalized feedback.
Unlike other automated essay grading tools, SAGrader is built for low-stakes writing in content area courses such as biology, psychology, business, and history. It works best for high school and college students. Every SAGrader writing assignment is designed to guide students to an accurate understanding of specific content knowledge. For example, in a biology class SAGrader can see how well students understand the process of photosynthesis or determine how well they know the difference between plant and animal cells. Our goal? To promote deep content understanding in content area classes by making writing assignments more convenient.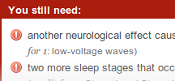 Promote better learning
Encourage deep content understanding through informal writing and revision guided by frequent feedback.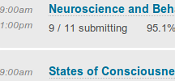 Perfect for your class
Designed for high school and college content area classes like psychology, biology, business, sociology and more.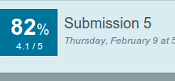 Efficient and accurate
Saves grading time, easy to set up and rigorously tested to agree with human scorers.
Benefits for students
Writing engages students with content and refines their thinking skills.
Frequent feedback guides students toward better learning outcomes.
Students have the opportunity to revise and improve their performance.
Encourages more frequent writing practice in science, social studies, and history courses.
Disadvantaged students have the opportunity to overcome initial deficits.
Easy to use and available 24/7.
Benefits for instructors
Reduce grading time by eliminating hand grading.
Assure objectivity and comparability of every writing assessment.
Easily monitor student learning by tracking individual and classwide performance.
Get a window into your students' learning by comparing their revisions over time.
Add your own comments to any student submission.
Maintain complete control over final grades.
Fully-hosted, web-based service. No software to install.
How It Works
Students are scored based on an answer key created by a subject matter expert.
An expert builds the answer key
HOW IT WORKs
For each assignment, a subject matter expert creates an outline of the correct content knowledge. For example, here's a very simple science assignment about the Earth.
Planet Earth
part of the Milky Way Galaxy
between two other planets:

Venus (the hottest planet)
Mars (red color)

contains 21% free oxygen
We build the semantic network
We add this outline to SAGrader, where it is represented as a semantic network of concepts and relationships.
SAGrader analyzes student submissions
When a student submits, SAGrader uses several artificial intelligence strategies to measure the student's ability to accurately identify, explain and organize the required knowledge. This goes well beyond keyword recognition. SAGrader can model hundreds or even thousands of ways students may express a concept, and we also make sure students are correctly explaining the relationships between concepts.
Concepts / Ideas
Recognizes variations of the same answer.
EXAMPLE:
"protect" = "guard" = "cover" = "watch over"
Relationships
Students must organize their ideas correctly.
WRONG:
"The retina contains cones and protects the eye."
CORRECT:
"The retina has cones. The cornea protects the eye."
Negation
Students won't get credit for saying the opposite.
NO CREDIT FOR:
"The iris does not dilate and constrict."
Feedback and Scoring
Assessment is fast, personalized, content-focused, consistent and accurate.
SAGrader improves the writing process by providing immediate feedback to guide revision. Below is an example of the feedback one student received from their psychology assignment on Gestalt psychologists.
Explain how Gestalt psychologists understand perceptual organization, including a discussion of form perception, depth perception, and perceptual constancy.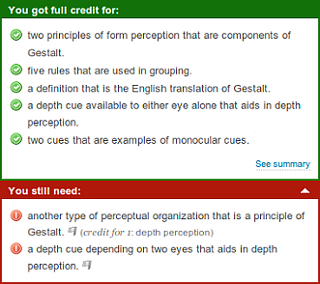 SAGrader feedback is:
Immediate. Students get feedback in just a few seconds.
Specific and actionable. Students know exactly how they need to improve in future revisions.
100% consistent and unbiased. Students are always graded according to the exact same standard.
Accurate. Studies have shown SAGrader agrees with human scorers 93% - 98% of the time.
Content-focused. To encourage deep thinking about content knowledge.
Personalized. No pre-packaged comments.
Assignments
SAGrader supports writing assignments designed to assess content knowledge.
SAGrader works best for high school or college-level content area classes. If you teach biology, psychology, sociology, business, or history, you're in the right place. SAGrader emphasizes the assessment of content knowledge. It's great for homework assignments that check for students' knowledge and understanding of your course content. It doesn't work as well evaluating general writing skills, creative writing, or persuasive skills. Use SAGrader for short answer questions, term papers and anything in-between. Writing activities can cover a range of cognitive levels from factual recall and analysis to interpretation and argument.
SAGrader is great for:
A short answer question that asks students to describe the parts of a plant cell.
An essay describing the contributions of Sigmund Freud.
An essay outlining each branch of government and its primary function.
But not a good fit for:
A persuasive essay about the death penalty.
An essay you want to evaluate using 6-trait writing.
A short story about the student's earliest childhood memory.
Assignments that work well in SAGrader
The following examples are actual SAGrader writing prompts taken from a variety of disciplines. These prompts demonstrate just some of the types of assignments SAGrader can handle well.
U.S. Government (The Fed)

Describe the structure and function of the U.S. Federal Reserve. What is its most important function? Why have some people called it 'the most powerful branch of government'?

Sociology (Social Deviance)

Read the following description of Warren's life. Identify 6 social deviance concepts that are illustrated in the story. For each concept that you identify, provide a definition and quote the passage of the text that illustrates that concept.

Psychology (REM sleep)

Discuss in detail the characteristics of REM sleep. Identify both the neurological and physiological effects caused by REM sleep. Describe the stages of the sleep cycle that occur before REM sleep. What distinguishes REM sleep from othe sleep stages?
Reuse an existing assignment
You're welcome to browse the assignments other classes are using. We can often modify assignments to include your lecture or textbook content.
Build a new assignment
We just need an outline of your answer key and we'll take it from there.
Download the Customized Assignment Template for detailed instructions and examples.
Case Studies
SAGrader is loved by instructors and students all over the country.
Testimonials from students
" The feedback is the best thing about SAGrader. Knowing exactly what I missed in order to help my overall grade is awesome. I'm a first time SAGrader user and I LOVE IT!! "
" [I like] being able to submit multiple times and getting the opportunity to make your grade better. "
" It helped me with the material that we covered. It made me think and it helped me remember information better. "
" I thoroughly enjoyed the opportunity to revise and resubmit. The feedback is the foundation for revisions and improvement upon the work. "
" [It actually became fun after I became used to it and understood what it was looking for. I liked being able to submit assignments multiple times. I always got a kick out of finally seeing 100% pop up at the top of the page. "
" I like the SAGrader because it helped me point out my mistakes and what do I need to correct. It gives me chance to do some research and think what do I need to do to get a highest grades. "
Research / Whitepapers
Our studies show that SAGrader increases learning and supports effective teaching.
Time-Shifted Online Collaboration: Creating Teachable Moments Through Automated Grading
Chapter appearing in Juan, A.A., Daradournis, T., and Caballe, S. (Eds.) 2009. Monitoring and Assessment in Online Collaborative Environments: Emergent Computational Technologies for E‐learning Support. IGI Global.
"Changing the timing of feedback creates a powerful teachable moment when students have motivation, information, opportunity, and feedback. They are motivated to improve their grade, they are told what they did right or wrong while the relevant information is fresh in their minds, and they have the opportunity to revise and resubmit."
Read Time-Shifted Online Collaboration
Frequently Asked Questions (FAQ)
Answers to the most commonly asked inquiries.