Ready for your personal online tour?
Overview
SAGrader is a learning tool that engages your students with interactive writing activities guided by immediate, personalized feedback.
Unlike other automated essay grading tools, SAGrader is built for low-stakes writing in content area courses such as biology, psychology, business, and history. It works best for high school and college students.
Every SAGrader writing assignment is designed to guide students to an accurate understanding of specific content knowledge. For example, in a biology class SAGrader can see how well students understand the process of photosynthesis or determine how well they know the difference between plant and animal cells.
Our goal? To promote deep content understanding in content area classes by making writing assignments more convenient.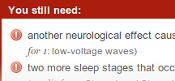 Promote better learning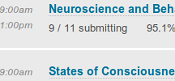 Perfect for your class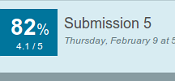 Efficient and accurate
Benefits for students
Writing engages students with content and refines their thinking skills.
Frequent feedback guides students toward better learning outcomes.
Students have the opportunity to revise and improve their performance.
Encourages more frequent writing practice in science, social studies, and history courses.
Disadvantaged students have the opportunity to overcome initial deficits.
Easy to use and available 24/7.
Benefits for instructors
Reduce grading time by eliminating hand grading.
Assure objectivity and comparability of every writing assessment.
Easily monitor student learning by tracking individual and classwide performance.
Get a window into your students' learning by comparing their revisions over time.
Add your own comments to any student submission.
Maintain complete control over final grades.
Fully-hosted, web-based service. No software to install.